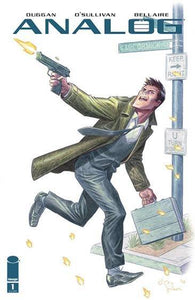 ANALOG #1 C2E2 EXC VAR (06/27/2018)
CHAPTER ONE: Five years from now: the security of the internet has been totally destroyed. Secrets are no longer sent over the web, they're entrusted to armed couriers called "Ledger Men," like human punching-bag Jack McGinnis. He's got a gun in one hand and a briefcase handcuffed to the other. Danger lurks around every corner, and Jack has to watch his back-because he had a part in the cyber attack that changed the world. Get in on the ground floor of this new ongoing series and thrill as we slam Jack's fist into the faces of spies, mercs, fascists, and eventually less punchable adversaries like a very grumpy artificial intelligence. From your new favorite artist, DAVID O'SULLIVAN, and GERRY DUGGAN, The New York Times bestselling author of such indie titles as Deadpool, Star Wars: Chewbacca, Guardians of the Galaxy, and Uncanny Avengers!


Condition:
Main photo is stock. (cover subject to change)
The book is NEAR MINT, new and unread.
Near Mint
Minor imperfections allowed at this grade. The book should be as described below.
Cover – No Creases, no fading, lies flat with no roll or curves, and may be slightly off center, cover scuff marks only if hardly noticeable.
Spine – Straight with no rolling, Staples like new with no rust, and Minor Bindery Tears are acceptable. (No more than 1/16th of an inch). The spine may have a couple of very small stress lines that break color.
Inside – Minor fading only, No stains or marks, and no tears or cuts.
Very Fine
Acceptable defects are as follow:
Very minor tears allowed. (1/8 inch)
Slightly noticeable bends allowed.
Limited number of bindery or printing flaws allowed.
Corners may have minor wear.
Spine is almost completely flat with slightly noticeable spine stress marks.
Cover may have 1/4 inch or smaller bend with no color break.
Cover scuff marks only if hardly noticeable.
Fine
Acceptable defects are as follow:
Very minor tears allowed. (1/4 inch)
Minor noticeable corner bends allowed.
Minor Spine rolling allowed.
Minor noticeable spine stress marks allowed.
Light scuffing is allowed.
Impacted corner
Shipping:
Shipped bagged & boarded in secure comic mailer or box.