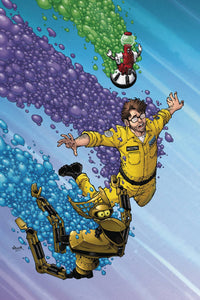 MYSTERY SCIENCE THEATER 3000 #2 CVR A NAUCK (10/24/2018)
Regular price $3.99 $3.39 Sale
MYSTERY SCIENCE THEATER 3000 #2 CVR A NAUCK
(W) Hodgson, Joel (A) Nauck, Todd (C) Nauck, Todd
DARK HORSE COMICS
StockID: 85114 Diamond#: AUG180322

Incepted into three different public domain comics by Kinga Forrester's Bubbulat-R- the heroes of Mystery Science Theater 3000 struggle to riff themselves free. While Jonah plays second fiddle to 1940s heroine Black Cat- and Tom Servo enjoys being a real live boy in Johnny Jason- Teen Reporter- something strange is happening to Crow in the pages of Horrific . . . o Created for comics by Joel Hodgson! o The hit Netflix show has come to comics!