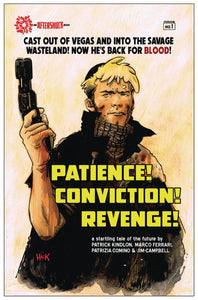 PATIENCE CONVICTION REVENGE #1 CVR B HACK (09/19/2018)
Regular price $3.99 $3.39 Sale
PATIENCE CONVICTION REVENGE #1 CVR B HACK
(W) Kindlon, Patrick (A) Ferrari, Marco (C) Hack, Robert
AFTERSHOCK COMICS
StockID: 83020 Diamond#: JUL181503

NEW SERIES! Disregarded- disrespected and dismissed- Renny has a chip on his shoulder. Once an equal partner in a criminal syndicate that rules Las Vegas- he now finds himself living in a shack in the desert. But the shack has a workshop- and Renny's been busy. It's time to march his robot army into the neon hell of a cyberpunk Vegas and retake his seat at the table. Or take the wood from the table and build enough caskets for the whole syndicate. Old friends better run- because Operation PATIENCE! CONVICTION! REVENGE! is underway. Like an Elmore Leonard novel set in the world of Blade Runner- PATIENCE! CONVICTION! REVENGE! is offbeat and often funny- but all about the dark corners of cities and minds. A violent criminal genius with a bad case of monomania makes for the most fun you'll have with a comic this year. Written by Patrick Kindlon (There's Nothing There- We Can Never Go Home) and drawn by Marco Ferrari (Famous Monsters Presents) PATIENCE! CONVICTION! REVENGE! continues Kindlon's exploration of difficult characters and irreverent themes. Having broken the chains of good taste- Kindlon goes all-in and writes a vengeance-obsessed lunatic as if he's riding beside him-all wrapped in a gangster tale like no other- and that HAD to be told at AfterShock!