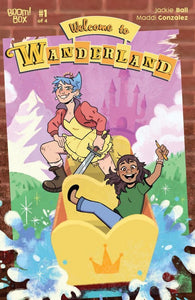 WELCOME TO WANDERLAND #1 (OF 4) (09/12/2018)
Regular price $3.99 $3.39 Sale
WELCOME TO WANDERLAND #1 (OF 4)
(W) Ball, Jackie (A) Gonzalez, Maddi (C) Gonzalez, Maddi
BOOM! STUDIOS
StockID: 82895 Diamond#: JUL181378

Writer Jackie Ball (Goldie Vance) and artist Maddi Gonzalez (Elements) present a coming of age story where fairytales aren?'t exactly a dream come true. Bellamy Morris knows everything there is to know about Wanderland Park. She knows when all the most iconic rides were built- all the shortcuts around the park- and all the secret lore behind Old West Town- Space Age Metropolis and New Princesston. So when she winds up in the REAL version of Wanderland- with real princesses and adorable talking woodland creatures- Bellamy is sure that she has GOT this. That is- until it starts to become clear that this magical land isn?'t much like the real world park at all- and the characters she thinks she knows aren?'t at all like she'd imagined.