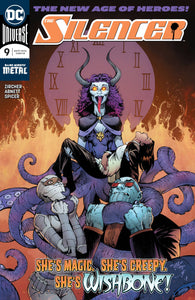 SILENCER #9 (09/26/2018)
Regular price $2.99 $2.54 Sale
SILENCER #9
(W) Abnett, Dan (A) Zircher, Patrick (C) Glapion, Jonathan
DC COMICS
StockID: 82206 Diamond#: JUL180689

Is there anything worse than a family vacation? Your spouse grouses- the kids complain- rest-stop food is gross-to make things worse- Silencer finds not one- but TWO deadly assassins on her tail! Talia al Ghul is in desperate need of a Lazarus Pit bath- and to get one she needs her top assassin Wishbone to throw Silencer off the trail! Problem is- Silencer isn't the only one on the hunt. Her rival Quietus needs Talia out of the picture- and the whole thing devolves into a mind-bending shootout at the amusement park- where Silencer's hubby and kiddie get caught in the crossfire. That's it-next year it's a 'staycation'!