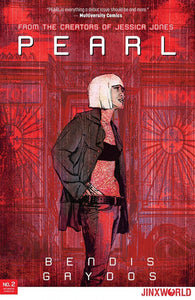 PEARL #2 (OF 6) (MR) (09/19/2018)
Regular price $3.99 $3.39 Sale
PEARL #2 (OF 6) (MR)
(W) Bendis, Brian Michael (A) Gaydos, Michael (C) Gaydos, Michael
DC COMICS
StockID: 82196 Diamond#: JUL180679

From the Peabody Award-winning creators of Jessica Jones comes a brand-new creation…Pearl. She is a master tattoo artist and reluctant assassin for the Yakuza she was born into- with a very special gift taught to her by her late mother. But a secret she has kept from everyone may be her only chance at happiness beyond the world she was brought up in. This epic romance set in modern-day San Francisco has the creators of Jessica Jones embarking on a completely new and complex character- creation and world.