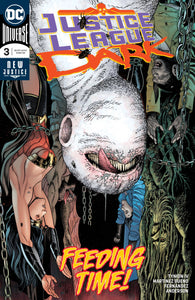 JUSTICE LEAGUE DARK #3 (09/26/2018)
Regular price $3.99 $3.39 Sale
JUSTICE LEAGUE DARK #3
(W) TynionIV, James (A) Bueno, Alvaro Eduardo Martinez (C) Bueno, Alvaro Eduardo Martinez
DC COMICS
StockID: 82184 Diamond#: JUL180667

Wonder Woman! Swamp Thing! Zatanna! Man-Bat! Um...Detective Chimp! The JL Dark team may not be strong or deep enough to stop the omnipotent Upside-Down Man from taking over our entire plane of existence. UDM takes the JLD apart one by one- but Wonder Woman might have enough mojo to keep everyone alive. Turns out Diana had a power not even she knew about that bursts to the surface- but will it be enough to turn the Upside-Down Man on his head- or is it just a lot of mystical mumbo jumbo?