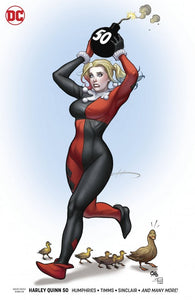 HARLEY QUINN #50 VAR ED (09/19/2018)
Regular price $4.99 $4.24 Sale
HARLEY QUINN #50 VAR ED
(W) Humphries, Sam (A) Basri, Sami (C) Cho, Frank
DC COMICS
StockID: 82171 Diamond#: JUL180654

In a special anniversary story- 'Harley Saves the Universe!'-no kidding! While reading a mysterious Harley Quinn comic book- H.Q. accidentally breaks all of reality. And you know the saying: if you break it- you bought it! Now it's up to Harley to travel through both time and space to fix all the continuity errors she created. Luckily- she'll have a little help- 'cuz riding shotgun is none other than special guest star Jonni DC- Continuity Cop! Good thing- too- because if Harley fails- it means her own mom will be lost forever. Gulp! That doesn't sound very funny!