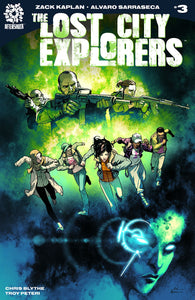 LOST CITY EXPLORERS #3 (08/15/2018)
Regular price $3.99 $3.39 Sale
LOST CITY EXPLORERS #3
(W) Kaplan, Zack (A) Sarreseca, Alvaro (C) La Torre, Rafael
AFTERSHOCK COMICS
StockID: 79701 Diamond#: JUN181346

The adventure is on! Hel Coates- her brother and their millennial teenage friends are running from mercenaries- hiding from monsters and exploring the dangerous world of NYC underground tunnels. But will they find the mysterious- supernatural doorway to the Lost City of Atlantis? Explore science fiction and archeology in this new adventure series by Zack Kaplan (Eclipse- Port of Earth) and Alvaro Sarraseca (Magnus- Turok) that HAD to be told at AfterShock!