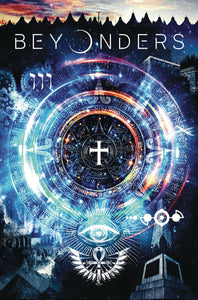 BEYONDERS #1 CVR B EWINGTON (08/29/2018)
Regular price $3.99 $3.39 Sale
BEYONDERS #1 CVR B EWINGTON
(W) Jenkins, Paul (A) St. Claire, Wesley (C) Ewington, Andi
AFTERSHOCK COMICS
StockID: 79691 Diamond#: JUN181336

A young boy obsessed with crop circles and cryptography finds his boring life turned upside-down when he discovers that all of his conspiracy theories are true- sending him on the ultimate treasure hunt for an ancient secret spanning thousands of years. What is the connection between a lost mountaineer- an indecipherable manuscript- and the lost library of Alexandria? How is this connected to a one-eyed- flatulent Welsh Corgi and endless plates of corned beef sandwiches? Find out in…Beyonders! From Paul Jenkins (ALTERS- Wolverine: Origin- Sentry) and Wesley St. Claire (FU JITSU- Teen Titans) comes the mystery series that HAD to be told at AFTERSHOCK!