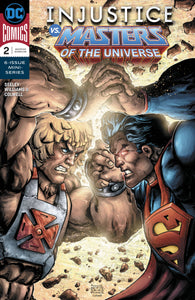 INJUSTICE VS THE MASTERS OF THE UNIVERSE #2 (OF 6) (08/15/2018)
Regular price $3.99 $3.39 Sale
INJUSTICE VS THE MASTERS OF THE UNIVERSE #2 (OF 6)
(W) Seeley, Tim (A) Williams II, Freddie (C) Williams II, Freddie
DC COMICS
StockID: 78861 Diamond#: JUN180506

He-Man has come to his mother's home-world to save it from a despotic ruler: Superman! As Batman plans an invasion of the Oracle to stop their suicide squads from terrorizing the populace- He-Man wanders an Earth city (in disguise) hoping to understand more of the difficulty they'll face. Meanwhile- back on Eternia- Zatanna and Swamp Thing are horrified to discover that someone else from their universe has crossed over!