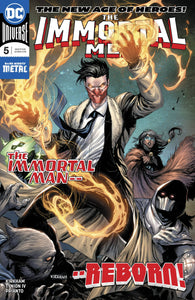 IMMORTAL MEN #5 (08/08/2018)
Regular price $2.99 $2.54 Sale
IMMORTAL MEN #5
(W) TynionIV, James (A) Kirkham, Tyler (C) Kirkham, Tyler
DC COMICS
StockID: 78858 Diamond#: JUN180503

Caden Park comes to grips with his immortal lineage- thus launching a bold new era for the Immortal Men! However- this new epoch is threatened right out of the gate- as the Immortal Men must battle an unstoppable army of their fellow immortals in a floating war-city miles above New York City. That's one bite the Big Apple may not survive! Meanwhile- this war of immortals draws all kinds of unwanted attention- starting with black-ops badass Amanda Waller. Gulp!