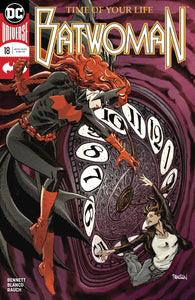 BATWOMAN #18 (08/15/2018)
Regular price $3.99 $3.39 Sale
BATWOMAN #18
(W) Bennett, Marguerite (A) Blanco, Fernando (C) Panosian, Dan
DC COMICS
StockID: 78824 Diamond#: JUN180469

It's the series finale- and there's a lot of drama to resolve for Kate Kane- both in and out of costume. As Batwoman- she teams with Renee Montoya to thwart Clock King's latest time-bending enterprise: selling a drug that allows criminals to know if their crime will be successful-before it's committed. But Batwoman's facing a quandary to boot: Take this drug off the street- or use it herself to stop crime? The only fight tougher is the personal one: Should Kate and Renee give their relationship another chance?