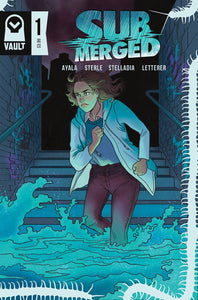 SUBMERGED #1 (OF 4) CVR B STERLE (MR) (07/04/2018)
Regular price $3.99 $3.39 Sale
SUBMERGED #1 (OF 4) CVR B STERLE (MR)
(W) Ayala, Vita (A) Sterle, Lisa (C) Sterle, Lisa
VAULT COMICS
StockID: 77334 Diamond#: MAY182108

On the night of the biggest storm in New York City history- Elysia Puente gets a call from her estranged little brother Angel- terrified- begging for help. When the call cuts out suddenly- despite the bad feelings between them- Ellie rushes into the night. Finding his broken phone in front of a barricaded subway station- Ellie follows echoes of her brother into the sinister darkness of the underground- desperate to find him before it's too late.