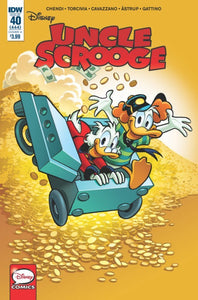 UNCLE SCROOGE #40 CVR A FRECCERO (09/19/2018)
Regular price $3.99 $3.39 Sale
UNCLE SCROOGE #40 CVR A FRECCERO
(W) McGreal, Carol (A) Cavazzano, Giorgio (C) Freccero, Andrea
IDW PUBLISHING
StockID: 75890 Diamond#: MAY180664

'The Case of the Saucer Impostor!' O.K. Quack's coin-shaped spaceship can shrink to the size of a real coin-and since Scrooge McDuck spent it and lost it- he's forced to help Humphrey Gokart- ace detective- find it! It's the stuff dreams are made of! Meet Humphrey Gokart- Disney's infamous duck detective-beloved in comics around the world- with master artist Giorgi Cavazzano at his service! Continues this beloved series' legacy numbering at #444! *Retailers: See your order form for incentive information.