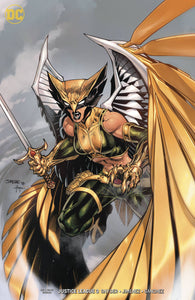 JUSTICE LEAGUE #3 VAR ED (07/04/2018)
Regular price $3.99 $3.39 Sale
JUSTICE LEAGUE #3 VAR ED
(W) Snyder, Scott (A) Jimenez, Jorge (C) Lee, Jim
DC COMICS
StockID: 75751 Diamond#: MAY180525

John Stewart: Ultraviolet Lantern? Believe it! Under the influence of the Ultraviolet Spectrum- John Stewart engages in some ultraviolence against his teammates Flash- Wonder Woman and Aquaman. Meanwhile- the rest of the League investigates the scene of the fallen Source Wall fragment- and encounters not only a horde of giant monsters- but a pair of longtime archenemies using stolen Atom technology to literally get under their skin. Best to stock up on Cortizone for that sort of itch! All this and…the Turtle? Yep.