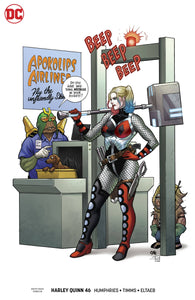 HARLEY QUINN #46 VAR ED (07/18/2018)
Regular price $2.99 $2.54 Sale
HARLEY QUINN #46 VAR ED
(W) Humphries, Sam (A) Timms, John (C) Cho, Frank
DC COMICS
StockID: 75742 Diamond#: MAY180516

It's Fury vs. Fury in a furious showdown! Harley's tasked with bringing in Petite Tina - except- turns out- the reason she failed as a Fury is that she's not furious enough! She's kind- good-hearted and oppressed - and now Harley's the one oppressing her. Harley's caught between a rock and a hard place: give up her amazing superpowers and free Tina and the other oppressed Lowlies- or keep bashing stuff with a super-hammer and having fun. What's a girl to do?