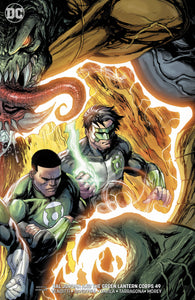 HAL JORDAN AND THE GREEN LANTERN CORPS #49 VAR ED (07/25/2018)
Regular price $2.99 $2.54 Sale
HAL JORDAN AND THE GREEN LANTERN CORPS #49 VAR ED
(W) Venditti, Robert (A) Sandoval, Rafa (C) Kirkham, Tyler
DC COMICS
StockID: 75738 Diamond#: MAY180512

Allied with evil! With all hope failing- the desperate Green Lantern Corps must ally itself with the monstrous Hector Hammond against the unstoppable might of the Darkstars. It's a suicide mission straight to the homeworld of the Controllers'- the puppet masters pulling the Darkstars' strings. Who will survive? Get your rings charged to 100 percent for the penultimate chapter of 'Darkstars Rising'!