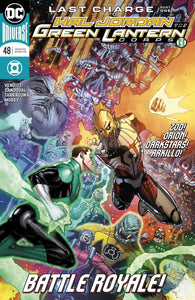 HAL JORDAN AND THE GREEN LANTERN CORPS #48 (07/11/2018)
Regular price $2.99 $2.54 Sale
HAL JORDAN AND THE GREEN LANTERN CORPS #48
(W) Venditti, Robert (A) Sandoval, Rafa (C) Mahnke, Doug
DC COMICS
StockID: 75735 Diamond#: MAY180509

The Green Lanterns fight alongside the Guardians of the Universe! The murderous Darkstars arrive en masse at Mogo to wipe out the Corps for good- so it's all hands on deck to save the GL headquarters. Meanwhile- Green Lanterns Hal Jordan- John Stewart- Guy Gardner & Kyle Rayner make their respective battle plans- but time's running out for a miracle. Can we move Daylight Savings to July to get that extra hour? Our boys and girls in green are gonna need it.