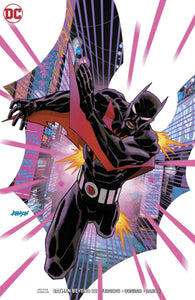 BATMAN BEYOND #22 VAR ED (07/25/2018)
Regular price $3.99 $3.39 Sale
BATMAN BEYOND #22 VAR ED
(W) Jurgens, Dan (A) Conrad, Will (C) Johnson, Dave
DC COMICS
StockID: 75706 Diamond#: MAY180480

Batman's got a bullseye on his back in part four of 'Target: Batman.' Thanks to the machinations of the Scarecrow- the entire city of Neo-Gotham is looking to take aim at Batman-including his own partner- Robin! Will hero turn against hero when fear is in the air? Elsewhere- former Royal Flush Gang member Melanie Walker looks to upgrade her image and take on a new heroic mantle- so she seeks advice from newsman Jack Ryder-unaware that he's a total costumed Creeper!