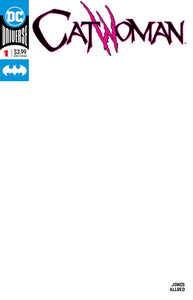 CATWOMAN #1 BLANK VAR ED (07/04/2018)
Regular price $5.99 $5.09 Sale
CATWOMAN #1 BLANK VAR ED
(W) Jones, Jodlle (A) Jones, Jodlle (C) Blank Cover,
DC COMICS
StockID: 75684 Diamond#: MAY180458

The wedding night's barely over- but Catwoman's back on the streets- this time to expose a copycat who's pulling heists around Gotham City. As Selina cracks the whip on her former criminal cohorts- she's attracting unwanted attention from one of Gotham's most dangerous groups. The mob? Nope. Try the GCPD. And as if the Bat-Bride didn't have enough problems- don't miss the debut of an all-new villain determined to make trouble for all nine of Selina's lives. Don't miss the start of an all-new monthly series written and illustrated by Eisner Award-nominee Joëlle Jones!