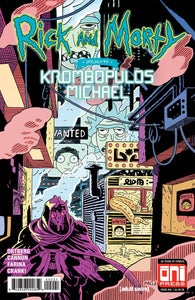 RICK & MORTY PRESENTS KROMBOPULOUS MICHAEL #1 CVR B MACLEAN (06/20/2018)
Regular price $4.99 $4.24 Sale
RICK & MORTY PRESENTS KROMBOPULOUS MICHAEL #1 CVR B MACLEAN
(W) Ortberg, Mallory (A) Cannon, CJ (C) MacLean, Andrew
ONI PRESS INC.
StockID: 74103 Diamond#: APR181669

Learn the secret stories and hidden pasts of your favorite Rick and Morty characters in Oni Press's new quarterly series of one-shots: RICK AND MORTY PRESENTS! In this issue- writer Mallory Ortberg (co-founder of THE TOAST) joins series artists CJ Cannon and Nick Filardi to tell the tale of KROMBOPULOS MICHAEL- the professional assassin who just loves killin'. Discover the roots of Rick's relationship with the galaxy-trotting killer with no code of ethics: children- animals- old people... it doesn't matter!