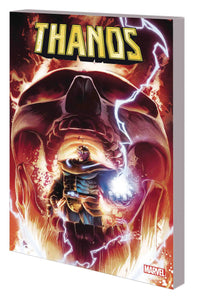 THANOS WINS BY DONNY CATES TP (06/27/2018)
Regular price $19.99 $19.99 Sale
THANOS WINS BY DONNY CATES TP

MARVEL COMICS
StockID: 73301 Diamond#: APR180867

Ask the most powerful beings in the Marvel Universe how they fear the universe will end- and in their most honest moment- they will answer with two words: 'Thanos wins.' And now- it looks as though that disturbing thought is about to become a horrific reality! See what happens when the Mad Titan gets his way! Thanos journeys to the end of time and his moment of complete victory…and still isn't happy with what he sees. Witness the Mad Titan's greatest glory - and ultimate shame! And no matter what form Thanos' victory takes- is there any way that anyone - or anything - can possibly survive? Featuring the Silver Surfer and introducing the all-new cosmic Spirit of Vengeance- Ghost Rider! Collecting THANOS (2016) #13-18 and THANOS ANNUAL (2018) #1. Parental Advisory

Condition:
Main photo is stock.
No major defects. Book is Near Mint* and unread.
Minor imperfections allowed at this grade. The book should be as described below.
• Cover – No Creases, No fading, lies flat with no roll or curves, and may be slightly off center
• Spine – Straight with no rolling, Staples like new with no rust, and Minor Bindery Tears are acceptable. (No more than 1/16th of an inch)
• Inside – Minor fading only, No stains or marks, and no tears or cuts.
Shipping:
Shipped bagged & boarded in secure comic mailer or box.