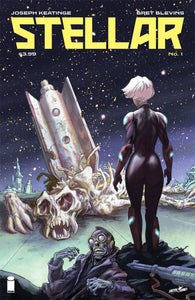 STELLAR #1 (06/13/2018)
Regular price $3.99 $3.39 Sale
STELLAR #1
(W) Keatinge, Joseph (A) Blevins, Bret (C) Blevins, Bret
IMAGE COMICS
StockID: 72918 Diamond#: APR180484

Stellar was taken as a child and transformed into the ultimate weapon- one that would end an intergalactic war. She succeeded…at everything except finding peace. Reduced to a bounty hunter- she scours the worlds she's broken- searching for redemption. But there are other weapons loose in the galaxy- who just can't leave the war behind them. JOSEPH KEATINGE (GLORY- SHUTTER) and legendary artist BRET BLEVINS (New Mutants- Sleepwalker) will transport you to another dimension- filled with crashed spaceships- fast-talking aliens- and ageless wonders.