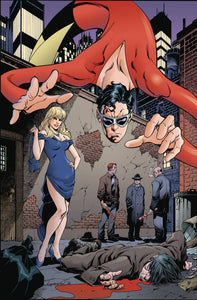 PLASTIC MAN #1 (OF 6) (06/13/2018)
Regular price $3.99 $3.39 Sale
PLASTIC MAN #1 (OF 6)
(W) Simone, Gail (A) Melo, Adriana (C) Lopresti, Aaron
DC COMICS
StockID: 72585 Diamond#: APR180151

Meet Eel O'Brian: a petty thug- thief and con artist who runs a strip club. Hey- he's also dead- at least according to the gang that tossed him out like last week's garbage. Literally. Don't worry- though-he bounced back from all that- and now he's trying to make a new life for himself- but the effort is stretching him pretty thin. How can he get revenge on his old boss- keep a street kid out of trouble- make a dancer fall in love with him and stop a mysterious society from taking over the world? Eel has no idea!