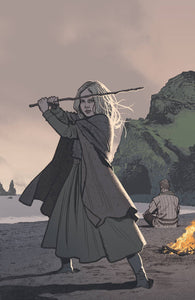 SWORD DAUGHTER #1 CVR A (06/06/2018)
Regular price $4.99 $4.24 Sale
SWORD DAUGHTER #1 CVR A
(W) Wood, Brian (A) Chater, Mack (C) Affe, Lauren
DARK HORSE COMICS
StockID: 72448 Diamond#: APR180014

The Forty Swords came at night and murdered the entire village- save for two people: the infant Elsbeth and her grief-stricken father- Dag. Setting off on a revenge quest that will span the width of Viking Age Europe- they find the key to repairing their damaged relationship lies in the swords they carry. Created by Brian Wood (Northlanders- The Massive- DMZ) and Mack Chater (Briggs Land- Lazarus)- Sword Daughter is a visually stunning- emotionally poignant story of parental guilt and acceptance of loss. o A Viking revenge saga inspired by Lone Wolf and Cub. o 28 page issues! o Deluxe cover stock.