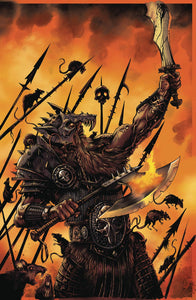 PESTILENCE STORY OF SATAN #1 CVR B ROOTH (MR) (05/30/2018)
Regular price $3.99 $3.39 Sale
PESTILENCE STORY OF SATAN #1 CVR B ROOTH (MR)
(W) Tieri, Frank (A) Okunev, Oleg (C) Rooth, Michael
AFTERSHOCK COMICS
StockID: 70745 Diamond#: MAR181069

The second volume of this hit AfterShock series starts here! The year is 1353. The fugitive Roderick Helms has retreated to a life of hidden seclu-sion after failing to expose the Church's role in the Black Death. But something threat-ens to bring him back into action. Something that has risen which will threaten to trans-form the waning plague into a far more darker and sinister crisis. And that something is none other than Satan himself! Written by the master of violence- gore- and mayhem- Frank Tieri (Harley Quinn- Marvel vs Capcom- Wolverine- Deadpool)- with spectacular art from illustrator Oleg Okunev- and covers by Eisner Award-nominated artist Tim Bradstreet (The Punisher- Hellblazer)!